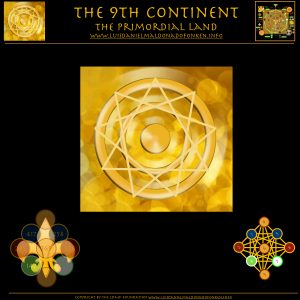 The 9th Continent
The Primordial Land
ABOUT:
The Primordial Land, is a LARP game (Life action role play) played online and in daily life. it is Citizenship gamified. Players intent to join another country, land, the Primordial Land, and participate in the life of its nation, and government.
BRIEF PRESENTATION:
Join the Game of the 9th Continent
Developed with the Matrix 9+ Game Generator.
Become a citizen of the Primordial Land
Engage into business and boost its economy.
Participate in its government at the 9th continent or represent it abroad.
Learn and practice its cultural expressions, beliefs, customs.
Join an integration program for foreigners, receive a residence permit, or apply for a nationality and receive a pass.
Or just visit as a tourist.
You may choose your role and citizen archetype.
This LARP Game played online and in daily life will fascinate you. All the knowledge of primordial archetypes, biohacking applied to governance and to the development of a nation, culture and civilization, has been implemented into this game generated through the Matrix 9+ Game Generator.
HOW? The Game Experience:
Players receive tasks that will give them right to become guests, volunteers, or tourists, in this land, and eventually start and integration program and eventually receive a temporary or long term citizenship, or even a new passport.
As citizens or guests of the 9th Continent, they must learn, observe the laws, regulations and protocols, duties and practice their rights.
At the 9th Continent, there are a particular set of beliefs and common knowldge, perception regarding what human, life, consciousness and intelligence are; how nature principles, laws, cycles and rhythms are applied in daily life, a precise awareness on natural rights and the function and value of wealth.
Yet, the 9th Continent as a nation has been gamified, all the services, organizations, institutions of the Primordial Land has been gamified and players earn points and receive benefits or prizes.
Training and/or tasks on keyresponsibilities as cities or guests, missions. according to their achievements receive points, rank and clearance, that will allow them to receive more knowledge, training and complex missions.
Individual path for the game is provided, as well as side operations with teams. leadership roles may be taken by players with rank and assignments. teams are also welcome to register for the game. will receive individual and at the same time collective missions and roles within their team.
The 9th Continent, as the LDMF Foundation has been, in its government, gamified. For example, the Primordial Economy, the gamification of the LDMF Foundation Household, has been implemented as well at the 9th Continent.
The citizens of the 9th continent also travel in other continents, and as travelers holders of the Primordial Land pass, may visit clusters of their own nation, visit primordial temples where culture and practice of their own belief are facilitated, and meet the representatives or authorities of their own government.
Wealth, roles in the government, or to become a good citizen in the 9th Continent, or a wise representative of its culture, are eventually aims the players may choose to have, as they would by joining a a new country as expats or immigrants.
WHEN:
The first step, in order to participate, is, after register in this webpage, to complete on first mission that will help the game masters to assess starting skills, qualifications and experience. according to the results of this first set of missions, the players will be assigned to a field of the game.
MISSIONS:
Players do request a new mission, with the description of their fields of interest and skills they do bring for it or wish to develop or receive those assigned to them by the gamemaster.