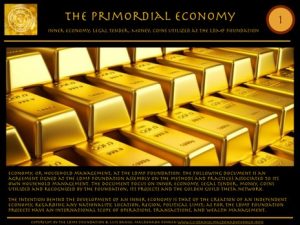 The Primordial Economy
Gamified Economy
ABOUT:
The LDMF Foundationhas been gamified, as well its own household or economy, the management of own wealth. The following PDF described the rules for the implementation of the Primordial Economy in an organization like the LDMF Foundation.
The Primordial Economy Gamified
Economy, or household management, at the ldmF foundation. the following document is an agreement signed at the ldmF foundation assembly on the methods and practices associated to its own household management. the document focus on inner economy, legal tender, money, coins utilized and recognized by the foundation, its projects and the golden guild theta network. the intention behind the development of an inner economy is that of the creation of an independent economy, regarding any nationality, location, region, political limit; as for the ldmf foundation projects have an international scope of operations, transactions, and wealth management. the primordial economy focus on the generation of wealth and wealth management by collaborating with principles, laws, cycles and rhythms of nature, care for peace, culture, family, life sustainability, wealth generation, innovation in science and technology, upgrade of a global culture and civilization, heritage and legacy. through the study of the spheres of the elements, one stands the knowledge of the primordial economy, as for that of management of the quantitative and qualitative nature of wealth, expressed through the 9 families or the spheres of the 9 elements. there for at the ldmf foundation 9 coins are used, and certain combinations of them are recognized as for internal legal tender, while all of them are seen as for money and was for a wealth generation score line. the earth element for example: includes the standard perception of wealth that is able to provide shelter, nurturing food, health, happiness, family, culture, government, property, security, safety, civilization, legacy. the 9 elements complete our perception of wealth, and its management: primordial economy.